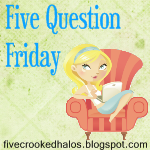 1. Do you have any nicknames and if so how did it come about?
My brother started calling me Kater when I was little.  I'm not sure were it came from or why he started calling me that, but it stuck.  And now that's what I'm called by everyone.  My brother, mom, dad, brother's long time best friend.  My brother's best friends kids and my nephew are actually being taught to call me Auntie Kater's.  I'm not sure how I feel about that.
2. What is your birth order amongst your siblings?
I have on older brother.  He was born February 17, 1981.  He is seven years older than me and we've never been really close.  Which makes me sad.
3. In a movie of your life, who would play your significant other?
Everyone says Hubs looks and acts like Seth Rogan, especially with his beard.  He hates when he gets the comment, but it's probably the closest person.
4. What is currently your favorite song?
My favorite song hasn't changed in awhile.  It's been Who Needs Air by The Classic Crime for awhile now.  But a close second it My Best Friend or Unbroken by Tim McGraw.
5. Are you saving your money for anything right now? Big or small purchase?
Right now the money we are saving is for just in case.  Hubs has been unemployed for almost seven months so all the money we have set aside is just in case my income isn't enough.  I would really love to be saving it up for something fun, like a vacation.  But that's just not going to happen right now.