Thanks to the lovely Jen at What Would Jen Do for posting these.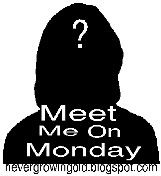 1. What is your favorite way to eat chicken?
In the tender form with ranch. Yum! Preferably with a side of fries.
2. Have you decorated for Christmas yet?
Nope, we have no room to store decorations in our apartment. We only have this tiny white Christmas tree. We don't even have decorations for it anymore. I'll probably put out the tree sometime this week, once I figure out where to set it.
3. What is your favorite article of clothing?
Cardigans and hoodies. I don't have a specific one though.
4. Do you pay your bills online or write checks the old way?
Hubs pays them online.
5. Do you make Christmas cookies?
Last year my mom and I did. And this year we plan on it again.
(1) What's your favorite fast food establishment?
Sonic. So yum!
(2) What's your favorite sport to watch on TV?
Volleyball. AVP beach volleyball is probably my favorite though.
(3) Do you like mushrooms and onions?
Mushrooms, no. Onions, sometimes. I hate raw onions, but grilled ones I have no problem with.
(4) If you had to get a tattoo tomorrow, what would you get done?
I would get the flowers on my right arm fixed. But if it had to be a new one then I would get my grandfather's police badge tattooed on my left inside ankle.
(5) What are your thoughts on the female proposing marriage to the male?
Personally, I would never have done it. I'm a traditional girl and the man is supposed to propose to the woman.