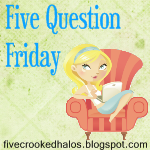 1. Have you ever visited another country?
Yes, when I was 11, right after 7th grade. I went to Germany, Switzerland and Austria with
People to People
. Kind of like Junior Ambassadors, but you never have someone come stay with you. My brother did Junior Ambassadors and went to Japan. I wish I would have been older so I could enjoy it more and remember it more. I'd like to go back though.
2. Where is the strangest place you have ever been?
I honestly can't think of anything right now. If I do, then I'll update this.
3. What is your favorite season?
Winter in Arizona. It's not really winter for most people. But I enjoy it.
4. What one song will always cheer you up?
I'm not sure. I've never had a go to song to cheer me up. Just something up beat could probably do it.
5. What Disney character do you resemble most?
I honestly have no idea. I tried asking Hubs for help, but he didn't. He said I reminded him of Piglet in the sense that he worries all the time and so do I.