I'm a member of: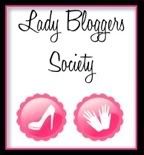 Over the weekend
@theladybloggers
started following me on Twitter. I was very intriqued when I saw that, so naturally I went to their website to see what they were about.
"The
Lady Bloggers Society
was formed to give women bloggers a place to connect, learn, share, and advance as bloggers and dealing with everything feminine in this growing digital age."
This was very interesting to me. I love the idea of coming together with likeminded women. And the fact that we would all be bloggers is a plus!
If this sounds interesting to you, then
join
! Everyone is welcome!