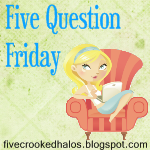 1. Did you have a favorite blanket or toy as a kid? If so, do you still have it?
I did have a favorite blanket. It was passed down from my brother to me. I just called it Blankey. It's yellow and blue patchwork on top and I'm pretty sure just solid blue on the back. And it's pretty much out of stuffing. My parents still have Blankey at their house in a drawer. It's pretty much useless but it holds a lot of memories.
2. Do you dream in color?
I think I do sometimes. I don't remember my dreams enough to notice.
3. How tall are you? Do you wish you were shorter or taller?
In high school I wished I was taller because I played volleyball. Now I'm pretty okay with my height. Sometimes I wish I was shorter though because Hubs and I are pretty much the same height.
4. If you could have anyone's (celeb or other) voice as the guide on your GPS, who would it be?
Someone with a British accent. I love Brits.
5. Do you return your shopping cart to the corral or leave it wherever in the parking lot?
That depends on how I'm feeling. Normally either Hubs or myself returns it to the corral.