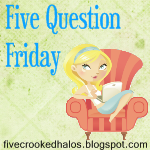 I first saw these by Lindsey on
Austin Antics
and I thought they looked fun. So I'm going to give it a try! I think you should try it too!
1. What is one food you could eat everyday?
Everyday... that would really depend. But lately it seems like shredded beef enchiladas and tacos. So good. I think I'm becoming more and more like my mother everyday.
2. Are you working in the career you thought you would be when you were 18?
No way. I'm still stuck at the same place that I was at at 18. I thought I would have moved on to something bigger and better, but I'm still stuck.
3. What is something that you wish you would have done when you were younger and you didn't?
Well, I'm still young so I still have time to do things. But I wish we had more time and money to travel and just enjoy life.
4. What color are your kitchen walls?
They're a boring off white color. We didn't do any sort of painting when we moved into our house. The off white worked well in the kitchen since the rest of the house is colorful. Plus my
kitchen cabinets
are blue so I think any other color would have been too much.
5. Do you remember what your very first favorite song was?
I don't remember my favorite song, but I know my favorite group was the Spice Girls. I love them. I remember when my brother told me they broke up I started crying. I was around 11. I thought that was some of the worst news I'd ever heard.