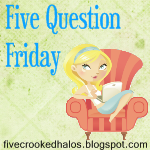 1. If you could have any talent and turn it into an occupation, what would it be?
Photography. I love taking pictures. I've wanted to better myself at it for awhile, but I don't make enough time for it in my life. I think I'm going to change that.
2. Would you rather have a house at the beach or a cabin in the woods?
A cabin in the woods. I love the beach but I don't want to live near it.
3. Is there any meaning or reasoning for the names you chose for your child/children?
We don't have kids right now, but we do have two fur babies.
Hubs picked
Kenai
. He's originally from Alaska so he named her after the
Kenai Peninsula
.
I picked
Root Beer
. There was a dog that I wanted from Pet Finder before we got ours and it's name was Root Beer and I thought that was the most adorable thing. So, I picked it for my dog. Plus the dogs looked almost identical.
Left; Kenai. Right; Root Beer.
4. What is your guilty pleasure? (I know we've done this one before, but I'm guessing people's "guilty pleasures" change frequently. At least, mine do!)
Fried foods. I love them, all of them. Well, mostly all of them. This is something I should probably get over though. :( Fried foods to not do the body any good.
5. Do you live in a house that is deep cleaned or straightened?
Straightened most of the time. I have to be in one of
those
moods to actually deep clean. I clean better when I'm angry or upset.
I just thought I would leave you with some fall hope.