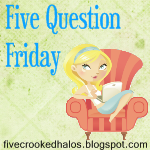 1. Did you have a pen pal when you were little (or now)? Where were/are they from?
I've never had an actual pen pal, but before I went to Germany with People to People we got to email with some of the families that we were going to stay with.
2. If you could do a different job for one day, what would it be?
Anything with books. I love books.
3. Do you remember your biggest fear from when you were little?
I'm guessing it was the dark and bugs. I still have a problem with both, haha.
4. What do you think is a waste of time? Why?
TV. But I watch it anyways.
5. What is the oldest item you have in your closet?
I have my Letterman's jacket. Hubs has a jacket from when he was in football when he was little.