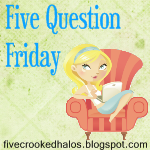 1. What do you listen to while driving?
The radio. I'm not picky. I just like to have a good song on.
2. What is your least favorite thing about Fall?
Does Arizona even have fall? If so, what is there to hate about it? It's got to be better than summer in Arizona.
3. What does your dream house look like, inside and out?
4. Would you ever own a minivan?
Hell yes! There are some sweet minivans out there!
5. Do you wash new clothes before wearing them?
Most of the time. Sometimes new clothes irritate my skin. My skin is sensitive.