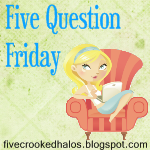 1. Who is the better cook, you or your spouse?
I'm going to have to say Hubs is a better cook.
2. How often do you talk to your mom?
Everyday. We work together. And she likes to text me.
3. Are you adventurous in the kitchen or stick to the recipe?
I tend to stick to the recipe. Hubs is the more adventurous one.
4. Is your second toe longer than your big toe?
They're about the same.
5. Do you dress up for Halloween? (Bonus question: What will you be this year?)
Nope.