I'm so excited it's Friday, but I'd much rather it be Saturday. Saturday's are my favorite because you can sleep in and you don't have to go to work the next day.
But this weekend is a three day weekend, which is perfect! I plan on watching Bones, reading my book, going to see roller derby with Hubs and possibly meeting up with
Paisley Blooms
.
All in all, it's going to be a relaxing weekend. Just what the doctor ordered. ;)
What are your plans?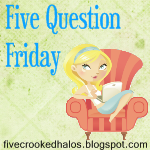 1. Have you worn the same outfit more than one day in a row?
Probably when I was younger, but not anytime recently. My clothes stretch out when I wear them and I hate wearing clothes when they're streched out. The only things that I wear would wear more than once before washing are jackets, cardigans and pajamas. Other than that, if it's been worn then I wash it.
2. If you had to choose any LARGE city to live in, which would it be?
I live in a large city and it's one that I'm familiar with. So I pick Phoenix.
3. Fly or drive with the kids on vacation?
I don't have kids, but we don't take our dogs with us. And I don't really like leaving them home alone. It'd prefer someone comes to watch them. So we haven't gone on vacation lately. Plus we really don't have the extra funds.
4. What is your idea of "spring cleaning"?
Um... going through your stuff and getting rid of what you don't use. I did that when we packed to move and when we unpacked after we moved, so I think I've got spring cleaning taken care of for this year.
5. What is the best book you have ever read?
The best book I've ever read... I honestly don't know. I really liked
A Child Called "It"
. But off the top of my head I can't think of the best book ever.