I can't believe the weekend is already over. They are was too quick.

I missed work today because I feel a cold coming on so I took today off to try to get some rest so I could nip this thing in the bud. It really seems to be helping. I took a nap earlier and that seemed to help, except for the gnarly headache I woke up with. But it's gone now with the help of some Excedrin.

This weekend we went to Kohl's since one of Hubs new co-worker's gave him a 20% friends and family pass for this weekend. We went looking for a specific Christmas gift with no luck. Instead we ended up picking up a dog bed for a steal!


How was your weekend?
_____________________________________________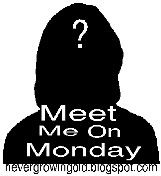 1. How do you order your steak?
Medium well. I don't like there to be any pink, but when I order it medium well it's really crispy and I don't like it like that.
2. Are you superstitious about anything?
I don't think so. I'd really have to think about that.
3. Who is your best friend (not including your spouse)?
Sadly, I don't have one of those. Hubs is my only best friend.
4. When is the last time your wore a dress (for the guys...a suit)?
I wore a dress last Monday at work. Only because I had recently shaved my legs to wear a dress for my company's holiday party. I'm normally not one to wear dresses.
5. Do you have any trips scheduled?
Not yet. Thinking about a meet up in Vegas with
The Honey B
in March. Wanna join?
(1) Who is your favorite actor?
My favorite actress is Kristen Bell.
(2) Do you collect anything?
Shot glasses. I have lots of them!
(3) What's the biggest turn off in someone of the opposite sex?
Smoking, yuck!
(4) If you HAD to change your first name, what would you change it to and why?
When I was little I asked my mom if I could change my name to Rebecca. I have no idea why, but now I know I wouldn't want that to be my name, it doesn't fit me.
(5) What virtue is better: forgiveness or justice?
That depends on whatever the situation is.